Article Index
Page 1 of 3
Achieving life's great goals have in common the idea that the process of "how you get up the mountain" has everything to do with whether you will stand on top. Following, is an article by Cal Bar's Paul Pfau about his team's 1995 expedition to Mt. Everest in commemoration of the great British mountaineer George Mallory - who coined the expression "Because it is there" when asked why he sought to climb the mountain - and whom may have been the first to do so in 1924. Like Mallory and those who followed him to Everest, be committed to closing your own circle in putting the bar behind you.  Unlike Mallory, you won't have to die getting there, and the view from reaching your "summit" will be worth your journey.  Have faith - you can do it!
the ghosts of everest past
DID MALLORY AND IRVINE REACH THE SUMMIT?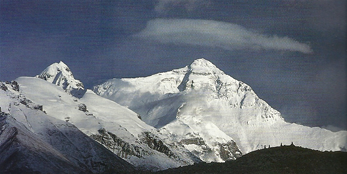 As the rain drummed on century-old windowpanes, Captain John Noel spoke of his role in the 1924 British expedition on Mt. Everest, the trip on which George Leigh Mallory and Andrew Irvine disappeared not far from the mountain's summit. A wood fire cast deep shadows across the otherwise darkened cottage in England's Romney Marsh as the 95-year-old British officer told me of his lost friends. His clear blue eyes glimmered in the dim light, belying his age.
"When last seen, they were four hours behind schedule - nobody knows why," Noel said, his words almost inaudible because of the pattering rain. "They were seen to be going forward, toward the top. Did they ever get there? That's what people ask. They never got back, and they were never found. What happened to them is an everlasting mystery."
This mystery, and the pair's position on the mountain when they were last spotted, vaulted Mallory and Irvine to legendary status. Even today, historians and mountaineers speculate that they were the first to climb to the top of the world, almost 30 years before Edmund Hillary and Tenzing Norgay. In 1953, the feat was monumental - had it taken place in 1924, it would have been little short of miraculous.
To be sure, if anyone was capable of the accomplishment, it was Mallory, who was no stranger to Everest when he set out on the 1924 expedition. He had been instrumental on the 1921 Reconnaissance Expedition - the team pioneered the North Ridge route, used by subsequent expeditions until the 1953 British success on the Southeast Ridge in Nepal. The following year, he and three others achieved a record altitude of 26,800 feet before turning back. Unfortunately, Mallory's party was caught in an avalanche two weeks later while making another summit bid, an accident that killed seven porters. In characteristic fashion, Mallory bore the brunt of the responsibility for the tragedy, later writing, "The consequences of my mistake are so terrible. It seems almost impossible to believe it has happened forever and that I can do nothing to make good."
Over the years, Everest had become a decidedly British mountain, and the national clamor to succeed was undoubtedly a factor in the Mt. Everest Committee's selection of Mallory for a third attempt in 1924. In spite of his three small children, his wife and a new teaching job, Mallory accepted the invitation, compelled both by a sense of duty and by the hard-won experience that fueled his private ambition to stand on the planet's summit.
The weather was unsettled for much of the 1924 expedition, and the team didn't establish the North Col camp, at 23,000 feet, until late in the season. A desperate summit bid without supplemental oxygen saw Mallory and Geoffrey Bruce turn back after establishing a camp at 25,300 feet. Team Leader Edward Norton and physician Howard Somervell made the next attempt, managing to place a tent at 26,800 feet, where they spent an uncomfortable night. The effort testified to the team's incredible resilience. By today's Gore-Tex and titanium standards, the group's equipment was primitive - yet Norton managed to climb to 28,100 feet without supplemental oxygen, an oxygenless record that stood until 1978. But Everest's summit still beckoned.